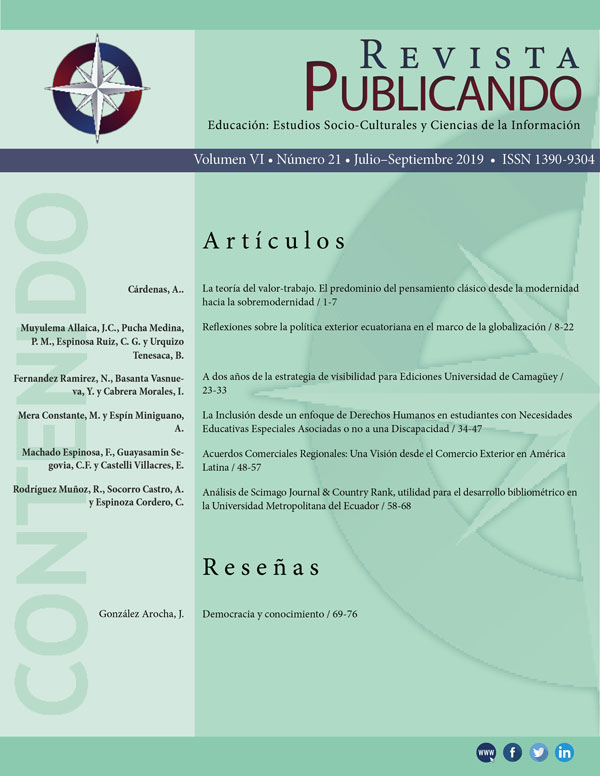 REVISTA PUBLICANDO is a publication issued by Corporación Educativa SER. It was founded in 2014 as a result of the First Course-Workshop" Publicación en Revistas Indexadas" in Quito, Ecuador.
Its main objective is the divulgation of original material, and of academic quality, mainly of research and review articles, reviews and essays in the area of social sciences, with particular emphasis on the groups of applied social sciences (pedagogy, library science, administration, international relations ...), and those that have to do with social interaction (such as sociology, economics, and political science).
The journal is aimed at researchers, professors, and authors interested in understanding the social from these disciplines and their interdisciplinary cross-linking.
Publicando accepts contributions in Spanish and English; it has a quarterly frequency and is published at the beginning of each period (January, April, July, October). More on the FREQUENCY OF PUBLICATION.
All our content is freely accessible. The articles are indexed, deposited, and registered in various sources, repositories, and databases to promote and give greater visibility to their contents. More on this link.
Our articles go through a blind review process by pairs of experts. If you want to know how to publish with us, as well as the format and style guidelines of the journal, follow this link: GUIDELINES FOR AUTHORS.
Announcements
Call for Papers: Llamado a Revisores - Revista Publicando

Uno de los trabajos más importantes y menos reconocidos en el ámbito académico e investigativo, es el de la revisión de artículos científicos. Sin embargo, desde el punto de vista de nuestra institución editorial, queremos darle a dicha labor el lugar que se merece. El proceso de revisión por pares garantiza la alta calidad de los artículos publicados, lo que a su vez asegura el éxito de la revista.

Revista Publicando da la bienvenida a académicos, investigadores o profesores, competentes que deseen participar como revisores de artículos en las áreas de trabajo que cubre la revista.

Posted: 2019-09-03
More...
Vol 6, No 22 (2019): October-November-December
Table of Contents
Articles
| | | |
| --- | --- | --- |
| | Xiomara Leticia Zúñiga, Erika Jadira Romero, Diego Wladimir Tapia Núñez, Anabelle Elizabeth Arana Rodríguez, Jessica Abigail García Vicuña | 16-26 |
| | | |
| --- | --- | --- |
| | Daisy de la Caridad Pérez Mato, Gregory Garay Arellano, Lazara Milagros Velis Aguirre | 27-34 |
| | | |
| --- | --- | --- |
| | Karla Juanita Montes Baca, Rigoberto Marín Uribe, Francisco Muñoz Beltrán, Ma Concepción Soto Valenzuela | 35-49 |
| | | |
| --- | --- | --- |
| | Celio Fabián Guayasamin Segovia, Franco Agustín Machado Espinosa, William Guayasamín Flores | 50-62 |
| | | |
| --- | --- | --- |
| | Edwin Joao Merchán Carreño, Karina Virginia Mero Suárez, Yudi Castro Blanco | 63-76 |
| | | |
| --- | --- | --- |
| | Soraya Madero Durán, Suyet de la Caridad Espinosa Fumero | 77-86 |