Issues 23 (January) And 24 (April)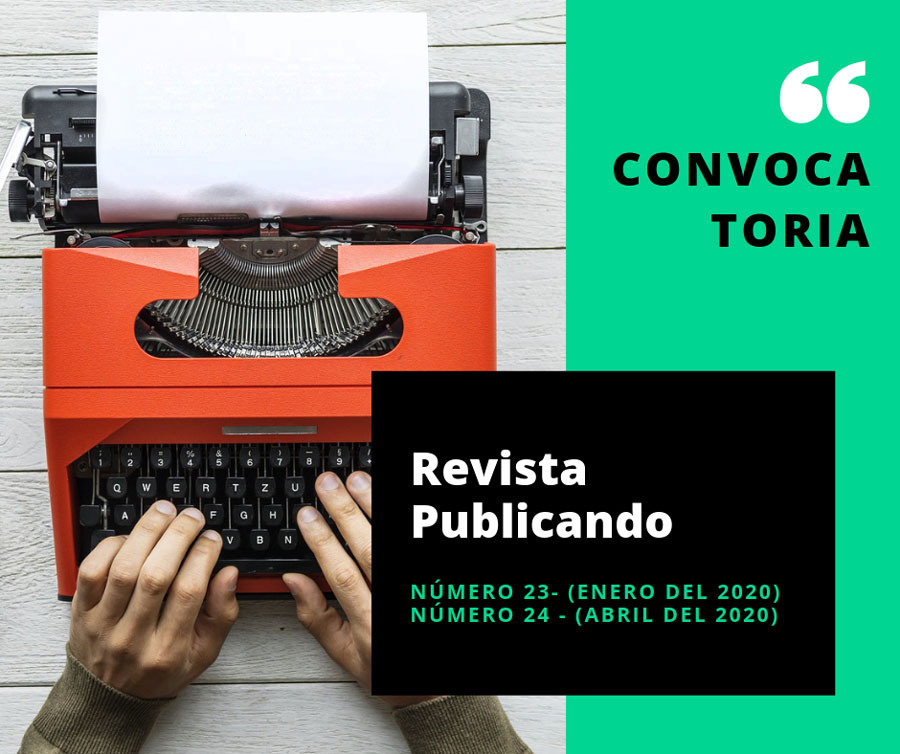 Revista Publicando calls authors who want to publish original research articles, reviews and essays in the journal's work areas. Those interested in publishing for the issue corresponding to January 2020 (issue 23) must submit their articles before October 1 of this year. The call to submit collaborations for the second issue of the year 2020 (April), will close on December 25, 2019.
Revista Publicando is a publication edited by Corporación Educativa SER (Ecuador) and Revista Publicando, Inc. (USA). It was created in 2014 as a result of the First Course-Workshop "Publication in Indexed Journals" in Quito, Ecuador.
Its main objective is the promotion of original material, and academic quality, in the area of social sciences, with particular emphasis on the groups of applied social sciences (pedagogy, library science, administration, international relations …), and those that have to do with social interaction (such as sociology, economics, and political science).
The journal is aimed at researchers, teachers, and professionals interested in understanding the social from these disciplines and their interdisciplinary intersection. Collaborations can be presented in Spanish or English. All published articles go through a blind review process.
The journal is guided by the 6th Edition of the APA Publication Manual. Each collaboration must be accompanied by keywords, between three (3) and five (5) keywords. Besides, the works will have a minimum of 15 pages and a maximum of 30 pages in letter format (8.5 "x 11"), with a 12-point Times New Roman typography, with 1.5 line spacing.
The content of our journal is freely accessible. The articles are indexed, deposited, and registered in various sources, repositories, and databases with the purpose of promoting and giving greater visibility to the content.
Contest Modality
Revista Publicando has article processing charges. However, in the case of this call, the outstanding collaborations will be published at no cost. Under this contest modality, the journal may publish up to 45% of the total amount of articles corresponding to each of the issues.
All items submitted will be considered to apply for this option.
The articles must be approved by the external reviewers – as usual – and then will be submitted to a second review by the Editorial Board. It is this body that will ultimately decide which articles are published under this modality or not.
All expenses for editing, proofreading, layout, design, publication, and promotion will be covered by Corporación Educativa SER and Revista Publicando Inc.
Links And Address
Email: editor@revistapublicando.org
Journal: https://revistapublicando.org/revista/index.php/crv/
Guidelines for Authors:https://revistapublicando.org/revista/index.php/crv/about/submissions#authorGuidelines
Focus and Scope:
https://revistapublicando.org/revista/index.php/crv/about/editorialPolicies#focusAndScope
Postal Address
STREET CARLOS IBARRA OE1 – 76 AND AVENUE 10 AUGUST. YURAJ PIRCA BUILDING, FLAT 8, OFFICE: 802. SAN JUAN, QUITO, 170402. ECUADOR.
PHONE: +593 23072763
CELL: +593 995080728
CELL PHONE: +593 979018369